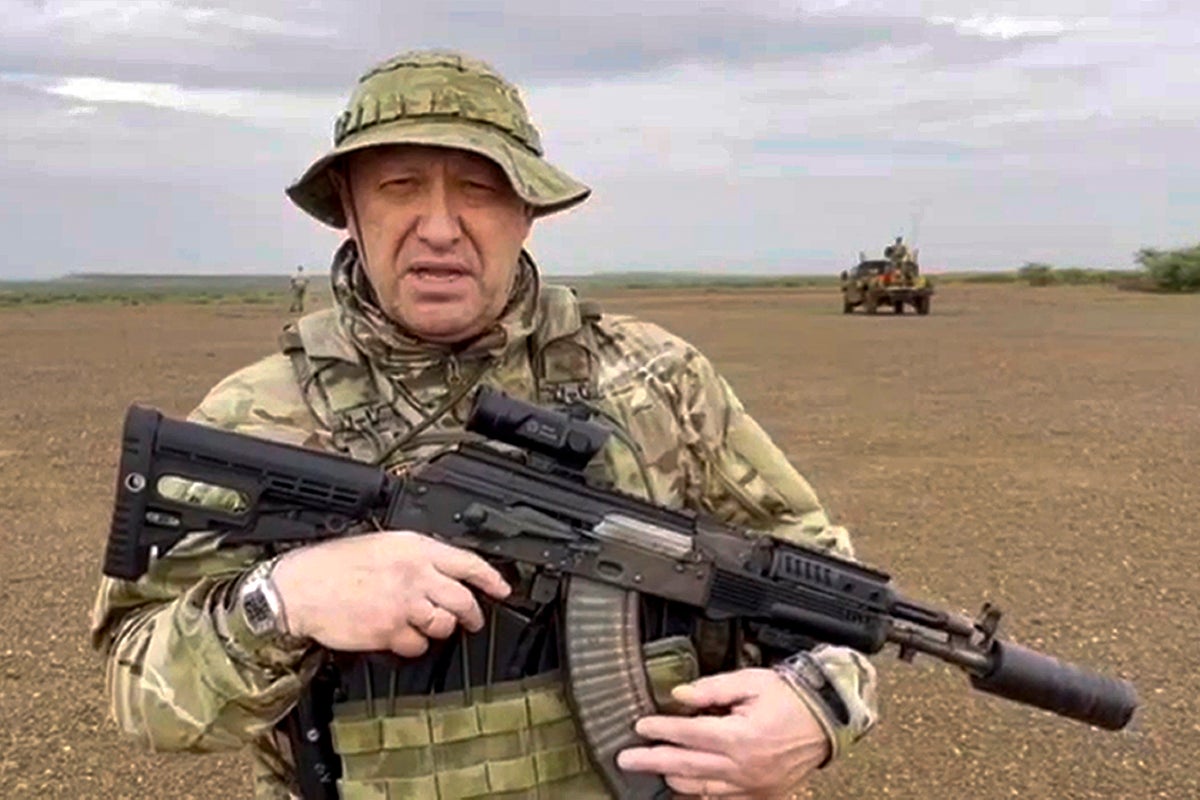 Russia's Investigative Committee has confirmed Wagner chief Yevgeny Prigozhin was killed in a plane crash.
The committee said in a statement Sunday that after forensic testing, all 10 bodies recovered at the site of the crash were identified, and their identities "conform to the manifest."
Russia's civil aviation authority earlier this week said Prigozhin, along with some of his top lieutenants, were on the list of those on board the plane that crashed Wednesday.
"As part of the investigation of the plane crash in the Tver region, molecular-genetic examinations have been completed," Russia's Investigative Committee said in a statement on its site on the Telegram messaging app.
"According to their results, the identities of all 10 dead were established. They correspond to the list stated in the flight sheet," it said.
Prigozhin's private jet came down north-west of Moscow, killing all those on board. Video footage showed debris falling from the sky above Kuzhenkino in Russia, with pictures emerging of the wreckage.
His right-hand man Dmitry Utkin was also on board the Embraer Legacy 600 jet, as well as five other passengers and three crew members.
The Kremlin has denied speculation it was to blame for the crash.
During a conference call with journalists on Friday, Kremlin spokesman Dmitry Peskov told the BBC there was "lots of speculation" around the "tragic" deaths.
"In the West, of course, this speculation comes from a certain angle. It's all a complete lie," Mr Peskov went on.
Russian officials have opened an investigation into air traffic violations but have not disclosed any further details about the possible cause.
Prigozhin's plane crash comes just two months after his aborted mutiny on Russia's top military chiefs, which culminated in a march on Moscow.
President Vladimir Putin described that mutiny as a treacherous "stab in the back", but later met with Prigozhin in the Kremlin to strike a deal.
Once a businessman with a catering empire and an ally of Putin since the 1990s, Prigozhin went on to establish the Wagner Group in 2014, the mercenary force that has fought many of the hardest battles in Ukraine.
The US estimates that nearly half of the 20,000 Russian troops killed in Ukraine since December were Wagner fighters in Bakhmut.
As his forces died en-masse, Prigozhin increasingly began to use social media to accuse the Russian army of incompetence or even treason.
Taking aim at Russia's defence chiefs Valery Gerasimov and Sergei Shoigu, Prigozhin called for an armed uprising and occupied Rostov-on-Don and marched on Moscow on June 23.
His men were accused of shooting down helicopters, with riot police and the National Guard scrambling to tighten security around the capital while security services demanded his arrest.
Prigozhin urged civilians to join his "march to justice" before peace talks were initiated with the Kremlin and mediated by Belarussian President Alexander Lukashenko.
It was agreed that the Wagner chief would leave for Belaurus and a criminal case against him for armed mutiny would be dropped.
The brief uprising posed the biggest challenge to Mr Putin's authority of his 23-year rule.
While Prigozhin was sighted again in Russia and in Africa, where the Wagner Group continue to carry out operations, he had maintained a relatively low-profile since the aborted mutiny.
Western politicians and commentators have speculated, without presenting evidence, that Priogozhin's death had been ordered by the Kremlin as punishment for the mutiny.
Former prime minister Boris Johnson has described the downing of the Wagner chief's plane as "violent liquidation" and claimed that Putin was "being transformed before our eyes into an Asiatic despot".
Following news of the plane crash, Putin paid tribute to Prigozhin in a televised statement, describing him as a "talented businessman" who had made "serious mistakes in life". He also sent his condolences to the families of the crash victims.
More follows on this breaking news story….

Source : https://www.independent.co.uk/news/world/europe/wagner-yevgeny-prigozhin-confirmed-dead-b2400163.html