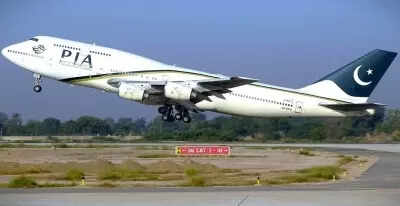 NEW DELHI: A Pakistan International Airlines (PIA) Boeing 777 plane was seized by Malaysia at the Kuala Lumpur Airport over non-payment of dues, according to reports.
Reports in Pakistani media said a Malaysian court ordered the seizure of the PIA plane over non-payment of lease dues totalling up to nearly $4 million.
Notably, the same aircraft, which has been acquired on a lease from Malaysia, was seized in 2021 over the same issue.
The aircraft was released by the authorities back then after intervention by Pakistan diplomats.
PIA, which is the flag carrier in the country, has been struggling with financial difficulties over the last few years.
The incident also comes at a time when the Pakistani economy is grappling with mounting debt and skyrocketing inflation.
The crisis-hit country is trying hard to secure a bailout package from the International Monetary Fund (IMF) to avoid bankruptcy.



Source : https://timesofindia.indiatimes.com/world/pakistan/malaysia-again-seizes-pakistans-boeing-plane-over-non-payment-of-dues/articleshow/100626928.cms