It is reflective of a crackdown on dissent and democratic regression that analysts argue has transpired during the presidency of Widodo, known as Jokowi.
That includes a weakening of Indonesia's famed corruption fighting agency, stripping it of some of its powers and rolling it into the public service.
Indonesia's controversial electronic information and transaction law, introduced six years before Widodo came to office but deployed with increasing frequency since, has already been used to arrest and imprison internet users adjudged to have defamed the president online. Journalists and activists have also been charged under the broad cyber libel provisions.
"The Jokowi presidency has seen increased pressures on freedom of expression," said Dr Ken Setiawan, a senior lecturer at the University of Melbourne's Asia Institute, at a seminar on the new code this week.
She said laws were also being passed too swiftly and with inadequate public consultation, the product of a political landscape in which there is minimal opposition because only two parties sit outside the super coalition Widodo has built.
"This development falls into a larger broad pattern of the politics of democratic decline [in Indonesia]," she said.
That was encapsulated this year when close supporters of Widodo promoted the idea of him extending his time in charge beyond the two-term constitutional limit.
While the president himself denied he had any such plan and instructed advisors to cease talking about it, Joshua Kurlantzick, senior fellow for south-east Asia at the Council on Foreign Relations in Washington DC, believes Widodo has contributed to the "blossoming" of political dynasties in Indonesia.
"Jokowi will be leaving Indonesia's democracy in its worst shape in years," he wrote in May.
Cast as a reformer when he began the first of his two five-year terms in 2014, that characterisation is up for debate as he enters his final full year in office.
He has placed great focus on development and investment, including for his ambitious $US34 billion ($50 billion) vision to build a new city on Borneo that would become Indonesia's new capital.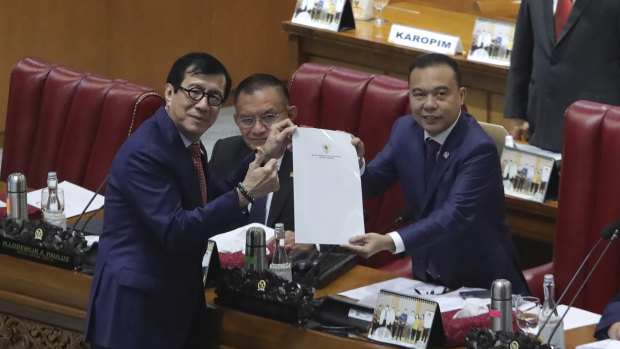 But if his reformist credentials are in question, Aaron Connelly, senior fellow for South-East Asian politics and foreign policy at the International Institute for Strategic Studies, argues against thinking about Indonesian politics and politicians in binary terms.
"When we foreigners speak about reform in Indonesia, we usually mean liberal economic and political policies. But when Indonesians talk about Reformasi, they think first of efforts to beat back 'KKN'—corruption, collusion, and nepotism," he said.
"Jokowi could not be considered a reformer by the first standard, given his illiberal policies on a range of political issues, though he has implemented some liberal economic policies, for instance reducing fuel subsidies, labour market liberalisation, and on investment regulations.
"But for a lot of Indonesians, Jokowi could still be considered a reformer because he has made progress on infrastructure that had previously been held up by corruption, collusion, and nepotism (though through a very state-led development model)."
Loading
The new criminal code won't be active until well after he leaves the presidential palace in Bogor, West Java and could face challenges along the way in Indonesia's Constitutional Court.
Law and Human Rights Minister Yasonna Laoly told parliament the government had consulted a wide range of groups, saying: "It's not easy for a multicultural and multi-ethnic country to make a criminal code that can accommodate all interests".
There is much apprehension, however, about what lies ahead. "This is not only a setback but a death for Indonesia's democracy," Citra Referandum, a lawyer with Indonesia's Legal Aid Institute, told Reuters. "The process has not been democratic at all."
Harsono, a former journalist, told the University of Melbourne seminar the passage of the code in parliament was "a sad day for Indonesia".
"I'm afraid this new criminal code might take a century to be amended," he said.
"I wish this generation didn't have to face what my generation had to face under [Suharto's] New Order. But if things get really bad, keep on resisting."
Get a note directly from our foreign correspondents on what's making headlines around the world. Sign up for the weekly What in the World newsletter here.

Source : https://www.smh.com.au/world/asia/jail-for-everyone-sex-ban-puts-spotlight-on-indonesia-s-law-and-order-crackdown-20221208-p5c4qi.html?ref=rss&utm_medium=rss&utm_source=rss_world