The move will uphold the nation's secularism laws, the education minister has said
Schoolgirls in France will be banned from wearing the abaya – a full-length Islamic robe – in state schools starting from September, the education minister announced on Sunday, arguing that the garment violates laws on secular education.  
"It will no longer be possible to wear the abaya at school," Gabriel Attal told the TV channel TF1.
"Secularism means the freedom to emancipate oneself through school," and wearing the Islamic garment in class undermines the school's status as a "secular sanctuary," the minister argued.
"When you walk into a classroom, you shouldn't be able to identify the religion of a student by just looking at them."
The issue has long been debated in France, amid claims that abayas worn in schools cause tensions between teachers and parents.
A 2004 French law prohibits items of clothing that "ostensibly show a religious affiliation" in schools, such as Islamic headscarves, Jewish kippahs, and large crosses.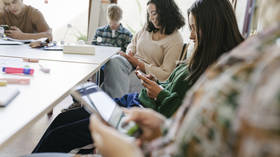 The ban has received a mixed reaction. Eric Ciotti, leader of the conservative Les Republicains (The Republicans) party, welcomed the measure. "We have repeatedly called for the ban on abayas from our schools," he wrote on X (aka Twitter).
Left-wing politicians have slammed the measure as "Islamophobic." Clementine Autain, a lawmaker from the La France Insoumise (France Unbowed) party, called it "unconstitutional," and a sign of the "obsessive rejection of Muslims."
You can share this story on social media:

Source : https://www.rt.com/news/581939-france-to-ban-abaya/?utm_source=rss&utm_medium=rss&utm_campaign=RSS