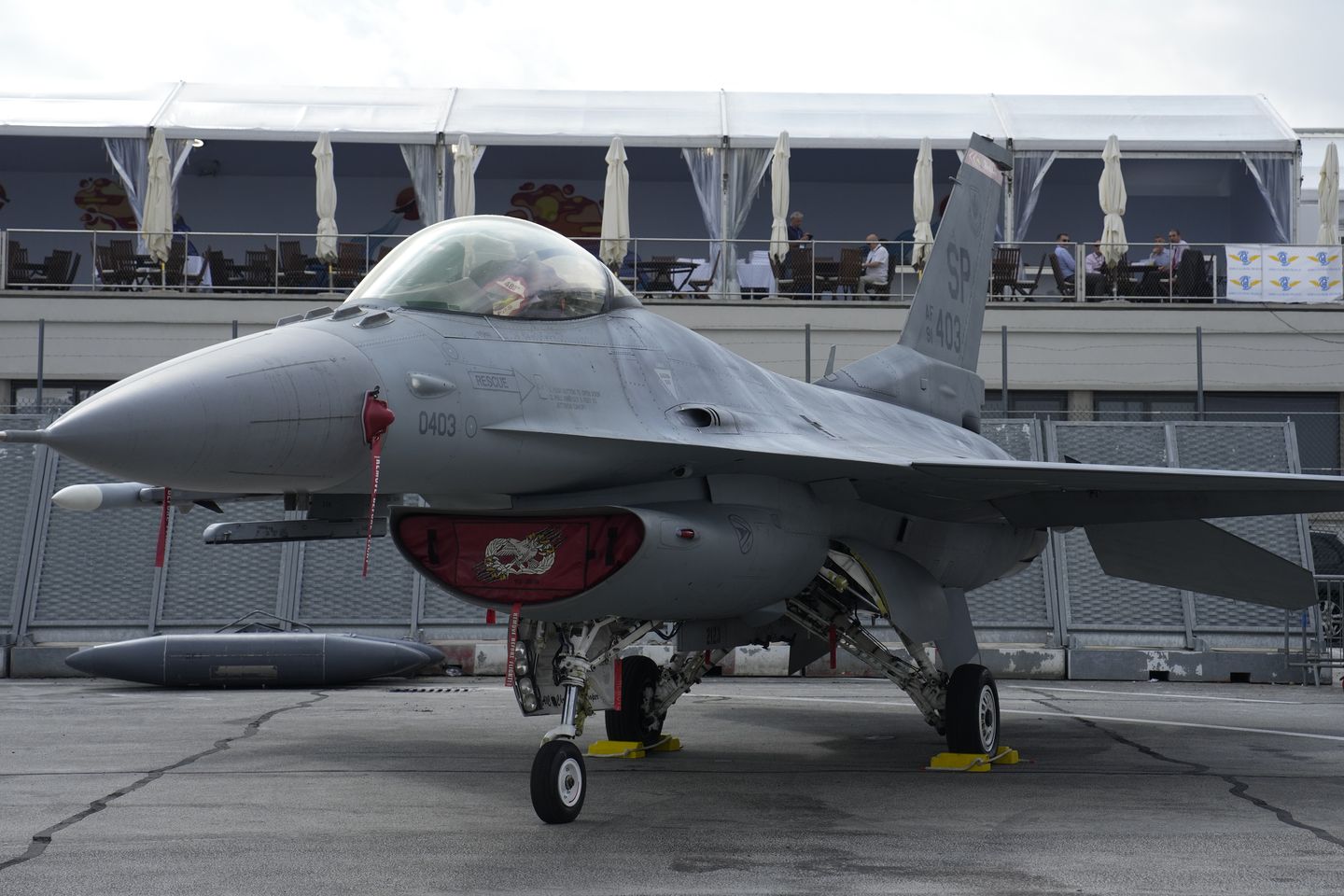 One of Ukraine's most celebrated and decorated fighter pilots, known by his call-sign "Juice," was among those killed over the weekend in an apparent training accident, the Ukrainian Air Force revealed Sunday.
During a combat mission roughly 90 miles outside of Kyiv, two L-39 combat trainer aircraft on Friday collided while in the sky, resulting in the deaths of three pilots, including Andriy Pilshchykov, the ace known as Juice.
The Ukrainian Air Force called the casualties a "painful and irreparable loss for all of us," and President Volodymyr Zelenskyy issued a statement expressing sadness at the news.
---
---
Mr. Pilshchykov was a member of the "Ghost of Kyiv" fighter pilot unit defending Ukraine's skies from Russia's invading forces and waged a fierce lobbying campaign to persuade the Biden administration to provide F-16 fighter jets for Kyiv's defense.
The news broke just as Russian officials finally confirmed Sunday that Wagner Group chief Yevgeny Prigozhin and other top officials of the powerful and feared mercenary force were aboard the doomed private plane that crashed under mysterious circumstances five days before.
The Tass news service reported that the Russian Investigative Committee had finished its genetic and forensic identification of the seven passengers and three crew members of the Embraer private jet, and that the 62-year-old Mr. Prigozhin, a onetime confidant of President Vladimir Putin who staged an abortive mutiny in June, was indeed among the victims.
"The identities of all 10 victims have been established," the investigative team said in a statement. "They correspond to the list stated in the flight manifest."
Also confirmed as dead from the passenger list were Dmitry Utkin, the commando who first organized the Wagner Group and recruited Mr. Prigozhin to its ranks, and Valery Chekalov, considered the force's logistics specialist.
In an interview with The Washington Times last year during a trip to Washington to meet with U.S. officials and promote expedited military assistance, the Ukrainian fighter pilot acknowledged the long odds he faced each time he undertook Russia's powerful air forces.  
"It's almost a one-way ticket to fight [Russian] fighters," Juice explained in April 2022. "It's very difficult. We are ready to die in the fight. We don't want to die. But if we have to, we want to be effective before we die."
Adam Makos, a founder of the U.S. charity Wingmen for Ukraine who helped coordinate the pilot's visits with American officials and lawmakers, told The Times Juice was so dedicated to protecting fellow pilots and lobbying on their behalf that he would use his own savings to buy Ukrainian helicopter crews safety equipment that they desperately needed.
"Now, a year later, we finally see the fruits of Juice's trip to America. Biden has done a U-turn and Ukrainian pilots are now training on F-16s," Mr. Makos said.
Juice's accident came just days before he was set to begin training on the F-16s he'd fought so hard for.
"My last message to him was to send him a picture of President Zelenskiy taking a seat in an F-16 recently," Mr. Makos said. " … He made it happen. We made it happen. And he could be proud of that. His reply would be the last words I'd ever hear from him: 'Hell yeah!'"
Russia has dominated the skies since declaring war, leading Mr. Zelenskyy to plead for fighter jets from America and Western allies.
President Biden eventually relented, announcing last week that the U.S. would join Denmark and the Netherlands in providing F-16s and the complicated training required. Ukraine has often been forced to rely on outdated Soviet-era jets.
Wanting to conceal his identity, Juice's trademark was to don a cloth mask during media appearances. His call sign was given to him by U.S. pilots during a joint training exercise because he declined to drink alcohol.
"It's devastating to see him killed when he was likely so close to being able to train in the F-16, which he advocated so successfully for and in which he would likely have absolutely thrived as a pilot," said Wingmen for Ukraine spokesman Drew Armey, a reservist for the U.S. Air Force who has worked with the Ukrainian Air Force since 2015.
The other two Ukrainian pilots killed in the collision were Maj. Vyacheslav Minka and Maj. Sergey Prokazin, Ukrainian officials said.
With rumors and speculation about Mr. Prigozhin's fate flying around the globe, the Russian statement offered no insight into why the plane suddenly went down in clear weather Wednesday while flying from Moscow to St. Petersburg.
The Tass report said that a criminal investigation has been launched looking into "potential violations of flight safety rules."
In addition to building a broad-ranging business empire with deep links to Mr. Putin's Kremlin, Mr. Prigozhin molded the Wagner Group into a formidable private army, with significant deployments in such hot spots as sub-Saharan Africa, Syria and Ukraine.
Mr. Putin has offered only muted comments on the crash and Mr. Prigozhin's legacy, and the future of Wagner Group operations remains deeply uncertain. An early U.S. intelligence assessment has reportedly concluded that an intentional explosion — likely a bomb planted aboard — caused the plane to go down, but the Kremlin has angrily denied that Mr. Putin or the government had any role in the crash.
Mr. Prigozhin had feuded bitterly and publicly in recent months with top Russian defense officials over the conduct of the troubled invasion of Ukraine, where Wagner Group forces were taking a lead part in some of the deadliest battles in the 18-month war.



Source : https://www.washingtontimes.com/news/2023/aug/27/decorated-outspoken-ukrainian-pilot-juice-dies-tra/?utm_source=RSS_Feed&utm_medium=RSS