The
United States
has previously called out China for "manipulating" water flows in the Mekong. Beijing responded that it had provided timely updates about the reduced water flow to its downstream neighbours.
In 2020, the US launched a project – the
Mekong Dam Monitor
– to track water levels using satellites at Chinese dams along the upper half of the river, known in China as Lancang.
But as satellites can only provide estimates of water levels, Kittikhoun said real-time data sharing from all six governments would be necessary to "close this gap of uncertainty".
Opinion: China has a choice of leadership or dominance over the Mekong
"We need real-time data-sharing, from some of the key dams that may affect the livelihoods of [downstream] countries," he said, including the Jinghong dam located on the upper Mekong in China.
Kittikhoun said the information needed – which would help downstream communities prepare for and adapt to changes – was not "intrusive", and would include basic information such as inflows into the dam, storage levels, outflows and overall plans for the year.
"[We also need to know] what countries will do in case of climate risks, if you have less rainfall and huge floods, what is your operational regime? And if there are emergency situations such as a major flood, or if dams are going to be operated differently, can notifications be provided much more in advance?"
Kittikhoun said that process would be "difficult" as the Mekong countries have different legal regulations and purposes for their dams, making harmonisation and further discussion necessary.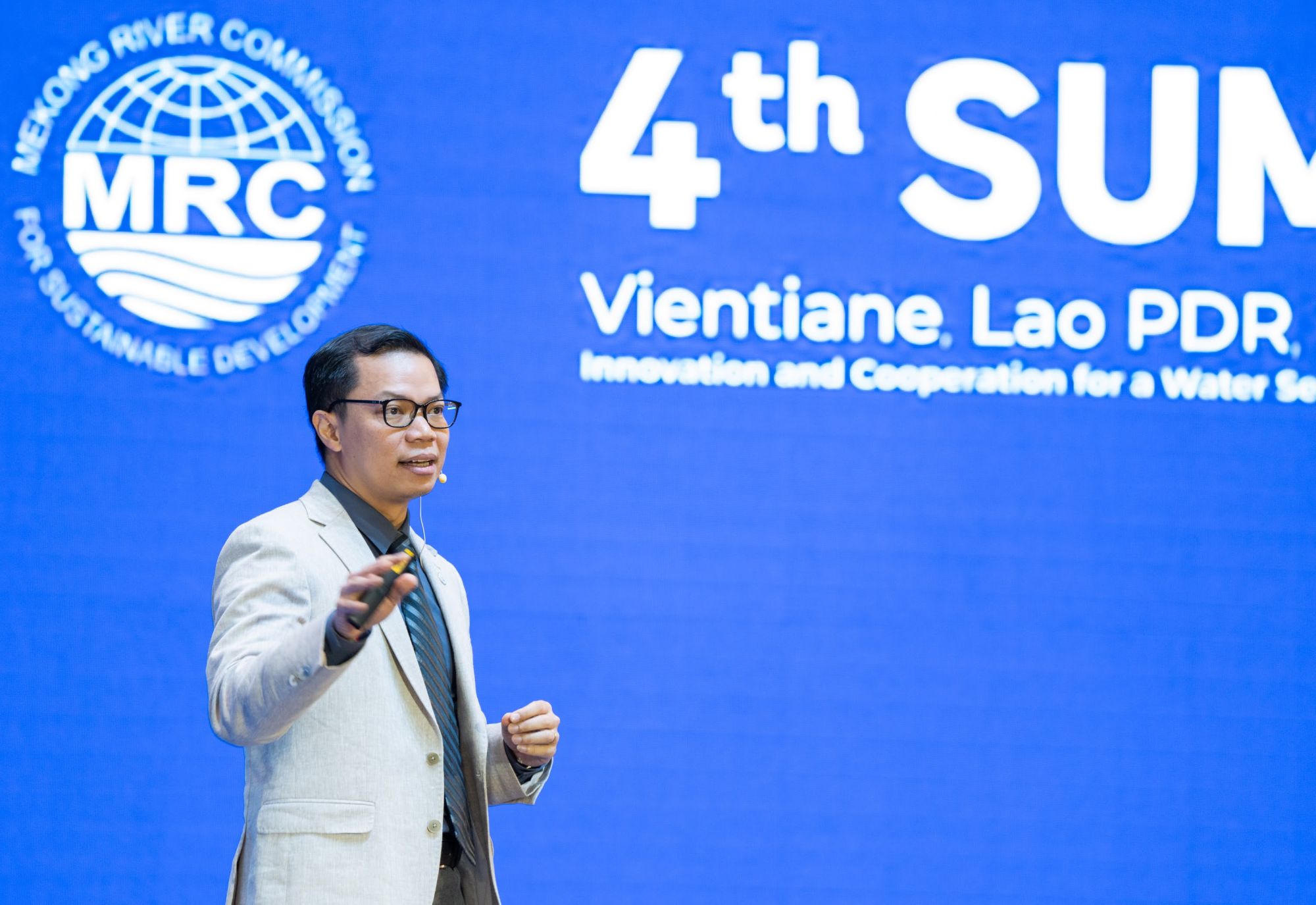 The recommendations were endorsed last weekend at what the MRC described as a "historic" joint meeting in Beijing.
"Two to three years ago, we did not have this shared understanding," Kittikhoun said, as some within the Mekong countries felt that it was more optimal "to operate your dams independently".
"But more and more they are beginning to realise that this is not the situation," he said, adding that "the good thing is that we have [now] reached a common understanding that this is an issue we need to tackle".
The first phase of the two-year joint study is set to be released next month in Laos, while the second phase – focusing on longer-term solutions, including a comprehensive flood and drought management strategy – can be expected at the end of 2024.
The MRC, which works with the governments of Cambodia, Laos, Thailand and Vietnam, was set up in 1995 to ensure the sustainable development and management of the Mekong alongside international partners such as the US, Japan, Australia, Germany and other European countries.
China established the LMC in 2016, incorporating all six of the countries along the river, including itself – a move some observers saw as an attempt by Beijing to exert further influence over the region.
"The perception at that time was, is [the LMC] going to somehow compete or outmanoeuvre the existing mechanism," Kittikhoun said, adding that MRC's approach of harnessing international expertise and partners did not sit well with China, which preferred an approach involving only member countries.
But through joint interactions, dialogue, trust-building and a growing awareness that transboundary challenges needed to be dealt with multilaterally, Kittikhoun said Beijing was increasingly "receptive" to working with international partners.
He said this was because the Mekong was unlike "hard security issues" such as the
South China Sea
. Stakeholders who are friends and partners of both the US and China also have a responsibility to ensure superpower rivalry in the region does not get out of hand, he said.
"The Mekong should not be a place for rivalry," Kittikhoun said, adding that while China is becoming more transparent, information-sharing "cannot happen overnight" due to Beijing's centralised system and its concerns that information shared would be "misused".
"But we tell them this is sharing data not for sharing data's sake, we are identifying an issue, a problem," Kittikhoun said. With more trust and institutional linkages, he said there was a possibility of joint infrastructure projects among Mekong countries, such as a jointly-managed reservoir or transboundary protected areas.
"That would be a truly transformative thing for the Mekong, so this is one dream that we have and we are working towards that" and more details could be expected next year, Kittikhoun said.
How dams in China are destroying livelihoods downstream in Cambodia
Naho Mirumachi, an environmental-politics lecturer at King's College London, said joint collaboration was crucial on the Mekong as climate uncertainty becomes more pronounced in the region.
"[This will] require further insight into how and when river conditions change," she said, adding that the joint study and efforts towards data sharing would help deal with future hydrological changes.
"There will be advantages in real-time sharing of storage levels and hydropower operations data as there has been a lot of controversy and confusion over dams causing impacts downstream," Mirumachi said.
Describing the joint collaboration as "a step in the right direction", Brian Eyler, co-lead of the Mekong Dam Monitor, said China had never shared dam data with the downstream countries before and this had created "a deficit of accountability".
But he said more than just dam data was needed to conserve the river's resources.
Apart from allowing the river to flow more naturally and flood during the wet season, it is critically important to address how dams remove rich sediment from the river and block fish migration pathways, said Eyler, who is also director of the US-based Stimson Centre's Southeast Asia programme.
"Dams need to be built differently, or not built at all, to allow sediment and fish to move," he said. "Without sediment, the Mekong Delta falls into the ocean more rapidly as the sea-level rises. Without fish, the people of the Mekong starve."
Eyler said one reason the Stimson Centre-operated monitoring platform was launched in the first place was the assessment that all Mekong countries, including China, would eventually share dam data with each other.
Mekong locals reel from fish crisis as dams sprout up from Laos to China
"Our goal was to use evidence and transparency to bring about a kind of accountability that would quicken the process," he said.
"It appears that this quickening is indeed happening, and the sooner these countries share dam data with each other, the better the chance of relief to the downstream."
Themonitor was developed to let the public know what is happening to the Mekong in near-real time, Eyler said, and reaches a wide audience by publishing its information in seven languages.
"[We] know the public counts on us to shine a light on the Mekong, that's not going to change," he said.

Source : https://www.scmp.com/week-asia/politics/article/3235081/china-mekong-states-boost-data-sharing-close-gap-uncertainty-mekong-shouldnt-be-place-rivalry?utm_source=rss_feed