Police have tightened security nationwide as social media warned of racial troubles if Anwar's multiethnic bloc won.
Loading
Anwar's rise to the top will ease fears over greater Islamisation of the country. But he faces a tall task in bridging racial divides that deepened after Saturday's poll, as well as reviving an economy struggling with rising inflation and a currency that has fallen to its weakest point.
Malays form two-thirds of Malaysia's 33 million people, which include large ethnic Chinese and Indian minorities.
"He will have to make compromises with other actors in the government that means that the reform process will be a more inclusive one," said Bridget Welsh, a South-East Asia political expert.
"Anwar is a globalist, which will assure international investors. He has been seen to be a bridge builder across communities, which will test his leadership moving forward but at the same juncture offers a reassuring hand for the challenges that Malaysia will face."
Anwar emerged victorious after other smaller blocs agreed to support him for a unity government.
The king met with royal families from nine states on Thursday to consult them on the deadlock. Malaysia's hereditary state rulers – or sultans – who take turns as king every five years under a unique rotation system, are highly regarded by the Malay majority as the guardians of Islam and Malay tradition.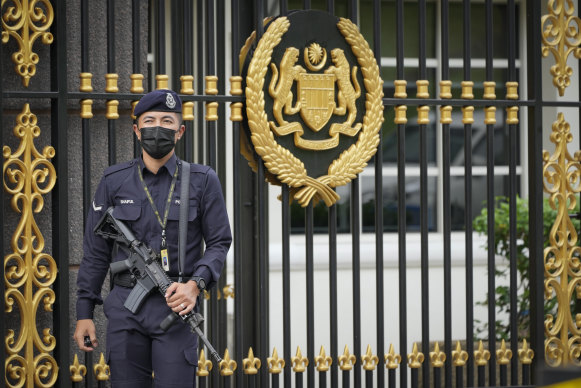 Short video platform TikTok said on Wednesday it was on high alert for content that violates its guidelines after authorities warned of a rise in ethnic tension on social media following the inconclusive election.
"We continue to be on high alert and will aggressively remove any violative content," TikTok, which is owned by the China-based firm ByteDance, said then.
TikTok said it had been in contact with authorities on severe and repeat violations of its community guidelines since the lead-up to the election.
Muhyiddin was hoping to form a government that was a conservative, largely ethnic Malay, Muslim group.
It included the Islamist party PAS, which has advocated for a strict interpretation of sharia Islamic religious law. Its electoral gains have raised concerns in a country with significant ethnic Chinese and ethnic Indian minorities, most of whom follow other faiths.
Ibrahim leads a group of more multiethnic, progressive parties that includes the Democratic Action Party, a predominantly ethnic Chinese party that has traditionally been unpopular with voters from the majority Malay community.
Loading
Social media users have reported numerous TikTok posts since the election that mentioned a riot in the capital, Kuala Lumpur, on May 13, 1969, in which about 200 people were killed, days after opposition parties supported by ethnic Chinese voters made inroads in an election.
TikTok said it had removed videos with May 13-related content that violated its community guidelines, saying it had "zero tolerance" for hate speech and violent extremism.
It declined to reveal the number of posts it removed or the number of complaints it had received.
Anwar's reformist alliance won 2018 elections that led to the first regime change since Malaysia's independence from Britain in 1957. But the government collapsed after Muhyiddin defected and joined hands with UMNO to form a new government. Muhyiddin's government was beset by internal rivalries and he resigned after 17 months. UMNO leader Ismail Sabri Yaakob was then picked by the king as the prime minister.
Many rural Malays fear they may lose their privileges with greater pluralism under Anwar. Fed up with corruption and infighting in UMNO, many opted for Muhyiddin's bloc in Saturday's vote.
AP, Reuters

Source : https://www.smh.com.au/world/asia/malaysian-king-names-anwar-ibrahim-as-prime-minister-ending-deadlock-20221124-p5c147.html?ref=rss&utm_medium=rss&utm_source=rss_world